To see my work please click on the "Artists represented" tab
For current and past exhibitions: please click on the "Galley Scopes Events / Events 2009-2014" Tab
Mission Statement Gallery SCOPES
Gallery Scopes first opened its doors in April 2011.  I am proud that I, as gallery owner, have created a platform in the town centre pedestrian zone where artists and art lovers can meet in a convivial atmosphere.  The Gallery is praised for providing a professional but relaxed environment.  The Gallery has an international outreach and because I am trilingual German, English and French this facilitates international exchanges.  The Gallery exhibits works by contemporary artists, with a focus on painting and mixed media.  Gallery Scopes regularly features in the press and has the support of the Town Mayor and Trade Associations.  The Mayor regularly speaks at the Openings and named the Gallery "an important cornerstone of Riedlingen's cultural scene".  The Gallery has also used satellite exhibition space in France and in Germany on the French border.
Regular exhibitions are held with visiting artists and in-between these exhibitions, the Gallery shows work by the core group of artists represented.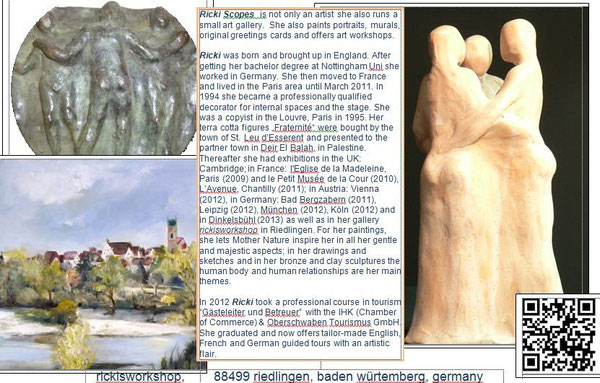 painting workshops
I run painting workshops (water based paints: watercolour, ink, acrylics) in Riedlingen two hours  Information and enrolment by email, self-contained lodging possible ricki90@hotmail.com
workshops: life drawing
I have set up  life drawing workshops (suitable for students of all levels) 
They take place in Riedlingen
You can sign up via this site or email.
Drawing and painting materials can be provided at cost price
Accommodation possible (details upon request).
Minimum 6 - Maximum 10 students per workshop.
pottery workshops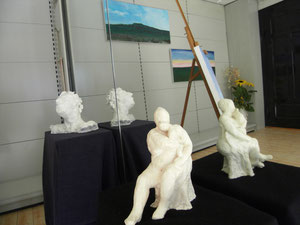 I run pottery sculpture workshops .
Sign up via this website or by Email
rickisworkshop, weibermarkt 1, 88499 riedlingen, germany
tel: +49 7371 9279458
email: ricki90@hotmail.com